Discussion Starter
•
#1
•
hey guys, ive started on the f250, and done some research on this thing here are the stats:
-zf5 trans
-borg warner 13-56 transfercase
-sterling 10.25 rear -open
-dana 44 HD ttb front -open
-3.45 gears
-msd ignition
- front end is shot so ill be getting a 86-91 f350 dana 60 high pinion king pin
theres is some minor rust on the inside right by where your feet go but nothing rusted on the out side but the bed is dented in a few spot, i tried to get some of them out but there still notice able. and yesturday i picked up a free 94 f150 front clip to swap on the truck, just need to make bumper mounts to adapt them to the 91 frame.
there are some thing that dont work like the heater... which sucks and ive tried to find whats wrong with it but cant find anything, the fan works, switch works, heater cores not plugged, wires are all pugged in.. idk what else other than a cut ot shorted wire, and ive checked fuses and there all good so im not sure.
ill try to get pics tomorrow of the progress.
heres what i want it to look like though -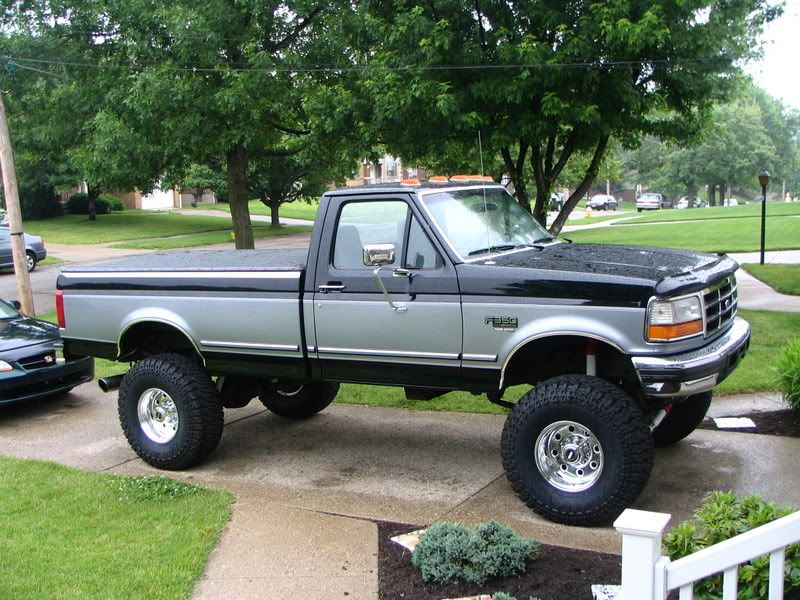 and theres this
dought ill be getting 20's for this truck tho mabey 18's max