Discussion Starter
·
#1
·
How to read your axle:
The rear axles come with a tag (see photo below) that should be attached to a bolt on the rear cover. If there is no tag, someone has unfortunately removed it, and it will be difficult to determine which axle you have. There is also an axle identification code inside the driver's side door on the vehicle information sticker with a two digit code for the stock axle (this may be inaccurate if anyone has changed axles previously). See chart at bottom.
Each set of numbers has a specific meaning. The diagram below explains this. All Bronco II's came with a special version of the 7.5" rear, which has a capacity of 2640lbs. Other Ford 7.5" axle housings will NOT work in place of the BII unit; however, the rings and pinions from any 7.5 can be swapped into it. The main reason for checking these tags is to see the axle's gear ratio. The bottom diagram illustrates the differences in axle ratios.
On 4x4's, there is a Dana 28 axle up front, until late 1989 when it was replaced with a special Dana 35. The front axle should have the same gear ration as the rear. The D35 is a stronger (than the D28) and can be swapped over from a Ranger (or newer BII, if not already equipped). The D28 can be re-geared; however, units with the 3.45 ratio, going to a lower (numerically higher) ring and pinion gear must use the appropriate housing.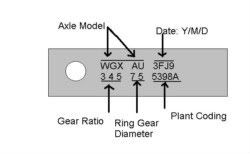 All Explorer are 31 spline 8.8" rear.
Most all Ranger 8.8" rear axles are 28 spline and all 7.5" axles are 28 spline axles.
Some late model 8.8" Ranger rear axles are 31 spline.
Aerostar Code Description Capacity Ratio
22 open 7.5" 2950 4.10
23 open 7.5" 2950 3.45
24 open 7.5" 2950 3.73
25 open 8.8" 2950 3.27
29 open 8.8" 2950 3.55
B2 L/S 7.5" 2950 4.10
B4 L/S 7.5" 2950 3.73
B5 L/S 8.8" 2950 3.55
B9 L/S 8.8" 2950 3.55
(Note: Aerostars with axle codes starting with "1" are Spicer/Dana 30 axles with Aluminum housings)
Bronco II Code Description Capacity Ratio
42 open 7.5" 2640 3.45
44 open 7.5" 2640 3.73
47 open 7.5" 2640 4.10
D2 L/S 7.5" 2640 3.45
D4 L/S 7.5" 2640 3.73
D7 L/S 7.5" 2640 4.10
Ranger Code Description Capacity Ratio
72 open 6-7/8" 2200 3.08
74 open 6-7/8" 2200 3.45
82 open 7.5" 2750 3.08
84 open 7.5" 2750 3.45
86 open 7.5" 2750 3.73
87 open 7.5" 2750 4.10
91 open 8.8" 2750 3.27
92 open 8.8" 2750 3.08
95 open 8.8" 2750 3.55
96 open 8.8" 2750 3.73
97 open 8.8" 2750 4.10
98 open 8.8" 2750 4.56
F4 L/S 7.5" 2750 3.45
F6 L/S 7.5" 2750 3.73
F7 L/S 7.5" 2750 4.10
R5 L/S 8.8" 2750 3.55
R6 L/S 8.8" 2750 3.73
R7 L/S 8.8" 2750 4.10
R8 L/S 8.8" 2750 4.56
(Note 4.56 geared axles '99-up are 31-spline)
Explorer Code Description Capacity Ratio
41 Open 8.8" 3200 3.27
43 Open 8.8" 3200 3.08
44 Open 8.8" 3200 3.73
45 Open 8.8" 3200 3.55
D1 L/S 8.8" 3200 3.27
D2 L/S 8.8" 3200 4.10
D4 L/S 8.8" 3200 3.73
D5 L/S 8.8" 3200 3.73
L - Limited Slip Differential
C - Conventional Differential
Code Ratio
85 3.55C
89 (1992-1998)4.10C
89 (1999-2001)4.56C
F5 3.55L
K6 4.10L