Discussion Starter
·
#1
·
I swapped an axle from a 95+ Expo Sport into my Ranger.
I did the swap so I could get disc brakes, 31 spline axles(vs the 28 spline Ranger), L/S, and lower gears.
The axle tubes are bigger than the Ranger tubes, so I had to get new U-bolts.
I was able to get an awesome deal at the JY. I got an axle with less than 100K on it, new rotors, new pads, rebuilt calipers, new p brake cables, and new seals for less than 200 bucks.
The biggest obstacles you will face when doing this swap id the fact that the spring perches need to be flipped (because and Expo is spring under axle vs the Ranger spring over) and the shock mounts to be welded on. Another big pain is the P-brake.
Here is how I brought the axle home
I cleaned it up a bit and cut the old perches and sway bar mounts off, then I made new perches out of some 2.5 x 2.5 box tubing.
Set the pinion angle at 6.5* and welded them on, I was able to salvage the shock mounts from my old axle.
I put new p brake shoes on and got the p brake levers lubed up,and I put all the new seals in. and then I primed the axle
next was paint and time to roll it under the truck.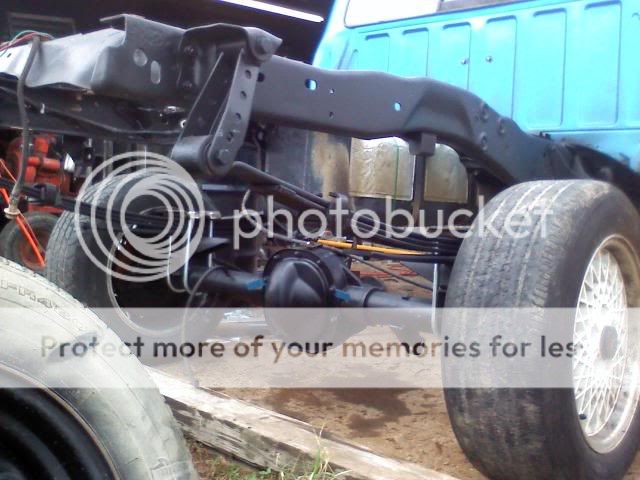 I the expo brake line setup is different than the Ranger, because the line splits at the DS caliper hose. But I wasnt thinking when I ordered my extended lines for a Ranger. So I split the metal line in the middle and flared it. That way I could use my new line. the expo Y is built into the ds caliper hose so I just used a ps hose on both sides.
ps vs ds caliper hoses
Here is my bracket for the p brake. The Expo cables are too short to fit into the stock Ranger bracket, so it is necessary to move the mounting location back. Even if the cables were long enough to reach the stock brackets it didnt matter for me, because my hanger is moved forward for the 64" springs)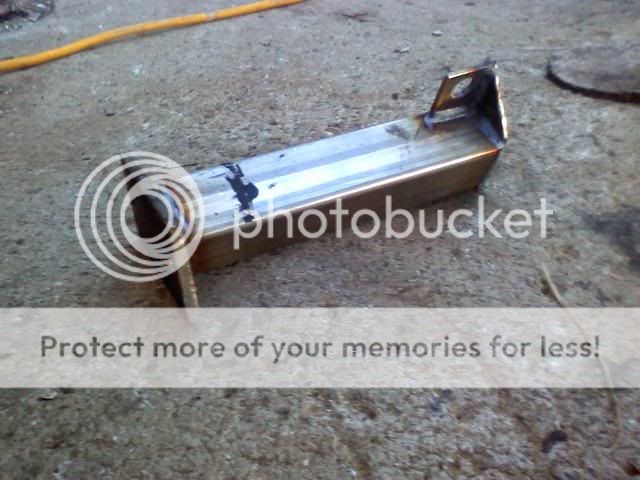 I used springs to keep the cables away from the tire when they are not under tension
-plumcrazy