Discussion Starter
·
#1
·
ok im not sure how to start cuz im kinda all over the place on this guy so ill try and organize it as i go. so sit back grab a drink and hope you enjoy it.
it started out like this for the most part at this point i did some work on the inside and aftermarket wheels and tires.
this was good for 9999 horse power its crazy how much vinyl stickers can do.
this is were i did the procomp lift kit. it said it would take five hours to install with all the right tools and atleast two ppl that know what to do. i installed it with all hand tools (plus a grinder for the rivits) with me and two helpers with no exp in six hours.
OK UP TO THIS POINT I JUST WHEELED IT A LIL.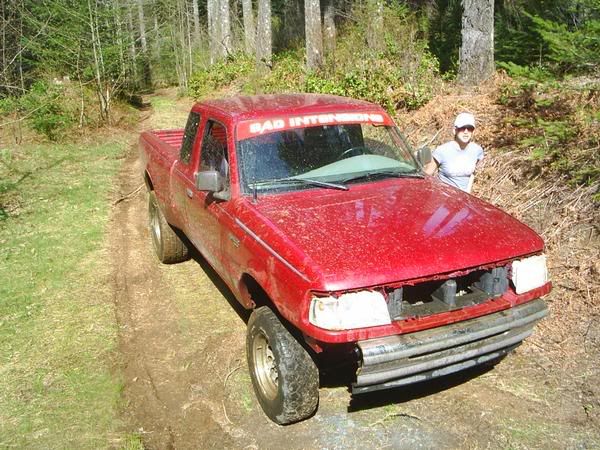 YOU CAN ALSO SEE I CUT THE BUMPER. i cut a tire jumping while using 33" tires so off with the ends on the bumper my friends
after lifting it i did have funn in the mudd but needed some better sounds and more modes. to start off i pulled the jumper seats and started to fab some new speaker mounts in the back of the cab.
as you can see i also cut out the center of the dash leading to a custom center console.
EDIT 12/15/09
in search of more power and that kick ass sound you get from a cold air intake i decided to try and build one. now i got the sound but cant really tell if any hp was gained but it looked good and cost me like $60 bucks to build.
so after some driving i found some problems with the air intake the filter is suckin in water. now one might not worry about that unless you live in wa cuz it always rains here lol.so i cut up the fatory air box and used it as a shield as you can see from this next pic.
at this point i had to install an 8.8 out of a 97 crown vic it has 3.27. i wish it had a l/s and atleast 4.10 but **** happens and i got this for $100 so i take what i can get. here you can also see i has an extra leaf in the pack from a chevy non the less. the result of this was about 3.5" of lift and a ride that i felt was perfect for towing or empty bed driving.
so after this i pulled the bed sides. the 8.8 is 3" wider than the stock ranger 7.5 so i had to keep the tires covered and i love the sides pulled on the bed so it worked out for me.
here it is getting ready for a trip to ca. put the topper on and filled it with all the stuff i could fit in it.
so this is where it gets sad. after getting to ca i let here sit for a few months until igot a call from a friend asking me to take his lil girl offroading. well i did and the ranger liked it alot this time cuz she rolled over with excitement.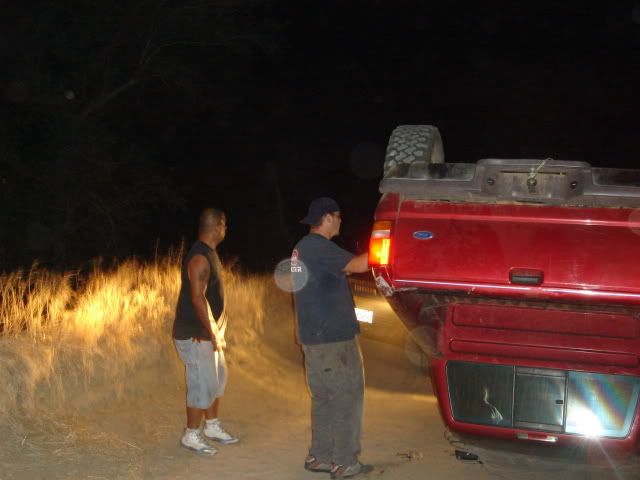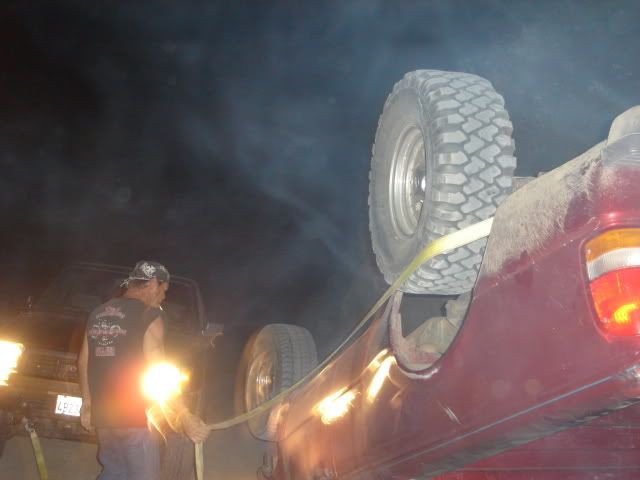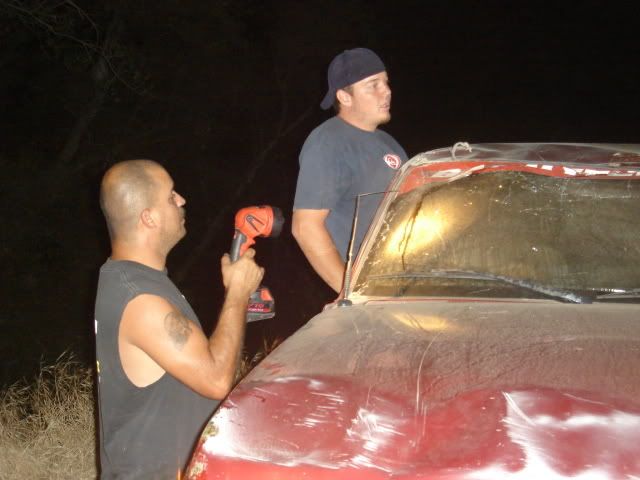 so after this it sat for a month or so until i decided what i wanted to do so i got a roof off of a 93 mazda to fix it.
as you can see the guy that did the job messed up the whole truck to the point that i could not repair it. the dash had holes burnt into it. the driver side was off set 1/4 and the passager side was off by 3/8 of an inch. this guy could of done it right but rushed it and turned my baby into a waste of time and money.
so now i had to start over and this is what i did.
this was just the beginning of the new ranger first off was another cab and bed. i bought a whole truck minus motor/trans.
now this is where all the funny really started to happen. after rolling it i figured it was not tall enuff.so this is the start to a body mount lift. the p/a body lift was 1 not tall enuff and 2 i dont like the longer weaker bolts you have to use. so what to do how about 5" of lift using 1/4" plate steel.
i used the floor of the old cab to set the mounts.
this is after i got the mounts welded on and painted
ill post more pics have to go work and ill be out of town for a week so ill try and get on while gone laterz
p.s. tell me what you guys think.
Never pay again for live sex! | Hot girls doing naughty stuff for free! | Chat for free!